---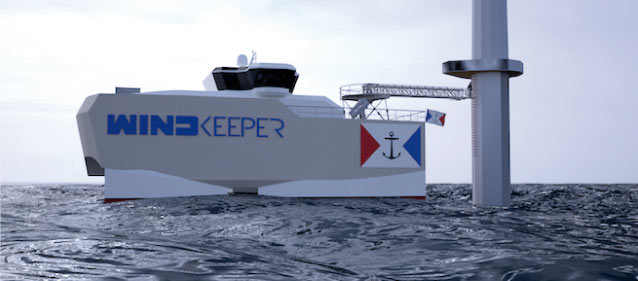 Windkeeper
Contents
Vessel support and maintenance for offshore wind farms
WindKeeper is a multi-mission ship, high seakeeping for maintenance operations , safety, and security of offshore wind farms .
Windkeeper is to double the current operating time during which operations mainteance can be implemented from a ship, and thus exceed the "300 days a year " (up to a wave height Hs1 / 3 ≤ 3m) to maximize the utilization of wind , especially during windy periods of high production.
capacity development work 24h/24h and 7d/7d .
excellent seakeeping ( SWATH hull )
transfer of personnel and equipment without contact with wind (DP2 )
embedded technical solutions to meet all needs corrective and preventive maintenance .
Windkeeper will testify in any security personnel on a wind wave height Hs1 / 3 ≤ 3m
Diesel electric propulsion will be hybridized with super capas , allowing greater flexibility and operational optimization.The project was co- labeled by Pôle Mer Méditerranée dated 29 June 2012.
---
Project leader
 CNIM
Industrial partners
Compagnie maritime CHAMBON, BERTIN,  SOCARENAM
Research partners 
SUPMECA, ENSTA Bretagne
Budget
30,60 M€
Year of certification
2012
Financing year
2013